Two weeks ago, our customer ordered a GYB-5 series 1400bar 80L/min high pressure water jet cleaning machine from our company. We have completed the customization according to the customer's requirements and delivered the machine to the customer on July 28, 2023.
Introducing our powerful GYB-5 series high pressure water jet cleaning system, designed to tackle the toughest cleaning challenges with unmatched precision and efficiency. With its incredible pressure, this system delivers a high-velocity water jet that effortlessly removes stubborn dirt, grime, coatings, and deposits from surfaces, leaving them immaculately clean. Whether it's industrial equipment, pipelines, tanks, or challenging environments, our 20000psi water jet cleaning system ensures optimal cleaning results, saving you time and effort while maintaining the highest standards of cleanliness and performance..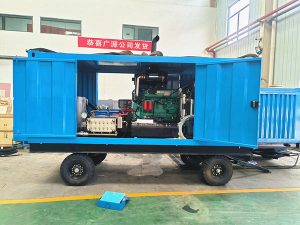 Product Performance
1. For the machine, pump is use the tech. of Germany WOMA.
2. Pressure is stable and reliable, easy to be adjust.
3. It is installed with a high-pressure alarm and high-temperature alarm for water conservation.
4. The high pressure gun is use the stainless steel material, Max pressure 1500bar
5. Has two filter, for inlet water filter out. Could be filter out the tiny particles from the inlet water. Good for long-working life of the pump.
6. Good heat dissipation, hard texture, not easy to deformation
7.Pure high pressure water physical cleaning, no need to add any chemical agents when used, no pollution, is the national promotion of green environmental protection high-tech products.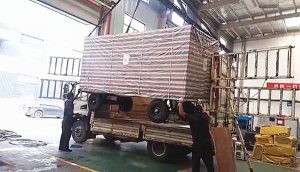 Application Field
The 20000psi high pressure water jet cleaning system serves a variety of cleaning purposes across different industries, thanks to its high-pressure capabilities. Some common cleaning applications include:
Industrial Equipment Cleaning: The system effectively cleans heavy machinery, equipment, and components, removing grease, oil, dirt, and other contaminants from surfaces.
Surface Preparation: It prepares surfaces for further treatment, such as coating or painting, by removing rust, scales, old coatings, and surface imperfections.
Tank and Vessel Cleaning: The high-pressure water jet efficiently cleans tanks, vessels, and containers, removing residues, sludge, and built-up deposits.
Pipeline and Pipe Cleaning: The system is capable of cleaning pipelines, removing scale, debris, blockages, and encrustations, ensuring optimal flow and preventing clogging.
Heat Exchanger Cleaning: It effectively cleans heat exchangers, removing fouling, scale, and deposits that can hinder heat transfer efficiency.
Manufacturing Equipment Cleaning: The high-pressure water jet is used to clean manufacturing equipment, including conveyor belts, molds, presses, and other machinery, maintaining cleanliness and preventing production issues.
Infrastructure Cleaning: The system can be utilized for cleaning bridges, road surfaces, concrete structures, and other infrastructure elements, removing dirt, grime, and graffiti.
Marine and Ship Cleaning: It is employed for cleaning ship hulls, removing marine growth, barnacles, and coatings, improving fuel efficiency and reducing drag.
Food Processing Equipment Cleaning: The system ensures thorough cleaning of food processing equipment, such as tanks, conveyors, and mixers, maintaining hygiene and preventing cross-contamination.
Aircraft Cleaning: The high-pressure water jet effectively cleans aircraft exteriors, including wings, fuselage, and engines, removing dirt, residue, and debris.
These are just a few examples of the cleaning purposes that the 20000psi water jet cleaning system can fulfill. Its high-pressure capabilities make it suitable for demanding cleaning tasks in various industrial sectors, ensuring efficient and effective cleaning results.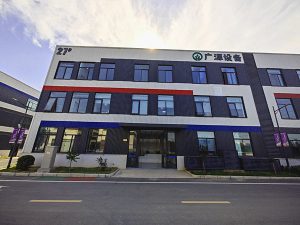 ZhengZhou GuangYuan Cleaning Equipment Co., Ltd is committed to explore the field of a high pressure water jet market brand. We are professional in the design, manufacture and production of high pressure cleaning machine, water blaster, high pressure pump, cleaning system customization etc. Our cleaning machine can be applied in both industrial and family cleaning, which are used for pipe cleaning, pressure test, shipyard rust remove, paint remove, building surface cleaning, concrete cutting, etc. Our company has years of research and experience in first-class design technology, excellent assembly line and good quality control system. Our products are welcomed by customers from all over the world. We sincerely look forward to cooperating with new and old clients.