Two weeks ago, Offshore Oil Engineering (Qingdao) Co., LTD signed a contract with our company to order four high pressure water jet cleaning equipments. We have completed these high pressure cleaning equipments as scheduled and delivered them to our customer on August 25, 2023.
The four equipments ordered by our customer are two 1200bar 70L/min high pressure cleaning equipments, one 1000bar 50L/min high pressure cleaning machine and one 300bar 23Lmin high pressure cleaner. We will focus on introducing the 1200bar 70L/min high-pressure water jet cleaning equipment, as this equipment is widely used in the offshore oil industry.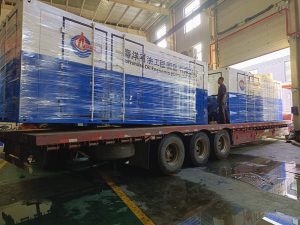 Product Features:
1.High pressure pump introduced Germany KAMAT advanced technology;
2.Stainless steel pump head; Stainless steel nickel-plated plunger, forced water cooling;
3.The water seal is made of ductile iron imported from the United States;
4.Good heat dissipation, hard texture, not easy to deformation;
5.The crankcase at the power end is lubricated with forced lubrication, which reduces the temperature of the crankcase;
6.Smooth and reliable transmission, reduce friction coefficient, improve lubricity;
7.Pure high pressure water physical cleaning, no need to add any chemical agents when used, no pollution, is the national promotion of green environmental protection high-tech products.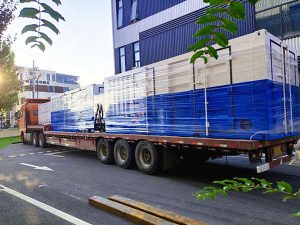 Application Fields:
It is suitable for ultra-high pressure water jet cleaning, metal cutting, ship cleaning and rust removal, chemical plant, sugar factory, power plant condenser, heat exchanger, evaporation tank, boiler and other kinds of reactor descaling cleaning, bridge,house concrete removal, Vinyl plant, fertilizer plant, coal chemical industry, power plant, resin factory, ship, automobile painting room, equipment renovation, paint, rust removal, ground, wall oil, airport runway glue marks, marking line, pipeline cleaning and dredging, etc…

1200bar high pressure water jet cleaning equipment, a state-of-the-art solution for tackling the toughest industrial cleaning challenges. With its impressive pressure rating of 1200 bar/18000psi, this equipment offers exceptional power and precision for various hydro jetting applications. Designed to efficiently remove stubborn deposits, blockages, and contaminants, it is highly effective in cleaning industrial pipelines, tanks, heat exchangers, and surfaces. Equipped with cutting-edge pump technology and specialized nozzles, this equipment generates a focused and forceful water jet that penetrates deep into the target area, providing thorough and efficient cleaning results. Whether it's removing hardened scale, corrosion, or tough residues, our 1200bar high-pressure hydro jetting equipment delivers unmatched cleaning performance, improving productivity, and maintaining the integrity of critical industrial systems.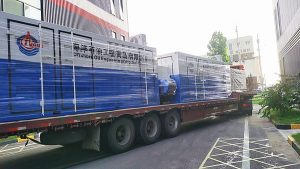 Welcome to Zhengzhou GuangYuan Cleaning Equipment Co., Ltd., a leading manufacturer of high pressure water jet machine, products with high quality high pressure water jetting machines, high pressure cleaner machines, sewer drain pipe cleaning machines,1200bar high pressure hydro jetting equipment, and industrial pipe cleaning machines. Based in Zhengzhou city, Henan province, our company is dedicated to providing advanced and reliable cleaning solutions for a wide range of industries. With years of experience and expertise in the field, we have established ourselves as a trusted name in the industry, known for our commitment to excellence and customer satisfaction. Our state-of-the-art manufacturing facilities, coupled with a team of skilled engineers and technicians, enable us to design and produce innovative and efficient cleaning equipment that meets the diverse needs of our clients. Whether you require powerful water jetting machines, effective sewer drain pipe cleaners, or specialized industrial pipe cleaning equipment, Zhengzhou GuangYuan Cleaning Equipment Co., Ltd. is your go-to partner. We strive to deliver products of the highest quality, reliability, and performance, ensuring optimal cleaning results and enhancing productivity for our valued customers.