We have a mode machine pressure is 500bar water flow is 23L/Min and it drived by 22kw electric motor,by the way,it also have diesel engine drive,and this model machine is most popular used in industrial cleaning,then ,what this water jet cleaner can do? Why so many people choose this machine?
Following is answers.
1.it can used for concrete surface roughening cleaning
For this usage,it just need the high pressure nozzle,high pressure gun and hose ,these accessories is enough for concrete surface cleaning,and pls also see the cleaning effect picture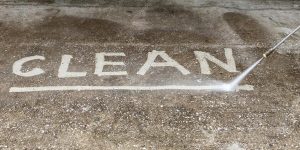 2.it can used for paint and rust remove cleaning
Such as steel plate,ship hull cleaning,we can use this machine to cleaner rust and paint,but need another sandblaster nozzle,we can see it as follows.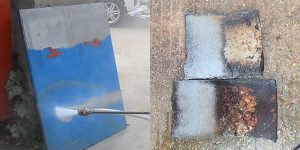 3.for industrial pipe cleaning
For this usage,we need a flexible gun and flexible gun nozzle,flexible gun nozzle can enter into the industrial pipe,this usage is used in power plant,steel plant and chemical plant,etc.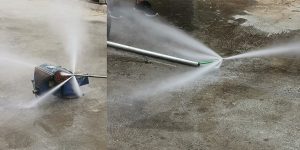 And this model machine volume is small and it's easy for move,that's why so many people would like to choose this model machine.